Former Intern
Anusha Thota
Anusha Thota, Former Aptive Intern | LinkedIn
Start Date: April 2022
Anusha Thota is a second-year Master of Health Administration (MHA) student at The George Washington University. She completed her Bachelor of Science degree in Microbiology with a minor in Biomedical Anthropology at the University of South Florida. After graduation, she worked as a medical scribe at an orthopedic clinic in Clearwater, FL. Working as a scribe amid COVID-19 pandemic exposed Anusha to the challenges health care facilities endure without efficient administration and management in place, as well as the disparities and gaps surrounding delivery, quality and access to care. Anusha wanted to positively affect and learn more about the administrative field of health care, so she began to pursue her MHA degree. Upon gaining exposure and knowledge, she was drawn to the opportunities within health care consulting as the field allows her to be a problem-solver while making a positive impact within the health care sector.
During her time with Aptive, Anusha has supported the Veterans Health Administration Specialty Care Program Office project that focuses on the expansion of telehealth services for specialty care programs, the identification of sustainable funding models and the development of business plans to help expand telehealth services.
"As an intern at Aptive, I found myself surrounded by mentors who were dedicated to helping me gain a variety of skill sets to succeed in the workforce," said Anusha. "This internship has given me the opportunity to learn more about consulting within health care than I would have gained in a classroom-only setting."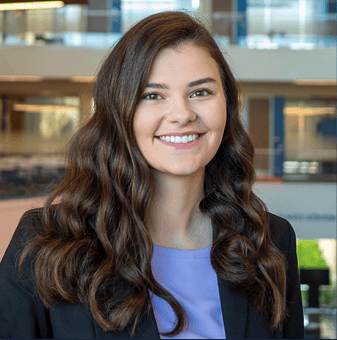 Intern
Cora Markert
Cora Markert, Aptive Intern | LinkedIn
Start Date: April 2022
Cora is currently pursuing an MHA degree at The George Washington University. She hopes to one day serve as a health care leader, with a particular interest in supply chain operations. Cora holds a bachelor's degree in Supply Chain Management from the University of Kansas School of Business. During her undergraduate studies, Cora completed two internships with Netsmart Technologies which provided her with great insight into the inner workings of electronic health record (EHR) technology. At that time, Cora also earned her Yellow Belt Lean Six Sigma certification.
During her time with Aptive, Cora also worked on the Veterans Health Administration Specialty Care Program Office project, developing and reviewing business plans for specialty telehealth care services for the Veterans Health Administration (VHA). Her primary responsibility was to act as a fresh set of eyes to capture the perspective of a non-expert, reading high-level documents to ensure language was clear, effective and understandable to the specified target audience.
"My internship experience here at Aptive has been fantastic," said Cora. "The environment of the company culture is inclusive, enthusiastic and caring. Upon joining my team, I was welcomed with open arms and countless opportunities to learn."
Former Aptive Resident
Stephanie Flynn, MHA
Stephanie Flynn, Former Aptive Resident
May 2022 – August 2022 | LinkedIn
Stephanie graduated in August with a MHA degree from The George Washington University. She is a board certified psychiatric mental health nurse and Navy Veteran. Throughout her eight-year Naval career, she served as the charge nurse of a detention facility, clinic manager of an overseas primary care clinic, nurse supervisor of a 258-bed hospital and the unit manager of a 20-bed inpatient psychiatric unit. She is most passionate about serving the mental health population and spent most of her career working in this specialty. Stephanie decided to return to school to earn her MHA to broaden her impact on improving current health care delivery services. When it came time to pursue a Residency opportunity, Aptive was her first choice based on company values and current contracts in the federal health sector.
During her time in the program, Stephanie supported one of Aptive's new contracts tasked with developing a pilot for a bundled payment model. Some of her other major responsibilities in this role included environmental scanning, assisting with project management plans and various meeting management tasks.
Stephanie began her full-time role with Aptive as a Senior Associate on August 29, supporting projects for the Center for Care and Payment Innovation, HRO and US Navy Bureau of Medicine and Surgery.
"Aptive authentically promotes employee well-being with a strong commitment to building a culture of psychological safety," said Stephanie. "Aptive leaders are clearly unified when it comes to business development and company culture, and to see the alignment of these two concepts has made this residency an extremely valuable experience."