Aptive Named a 2023 Top Workplace by The Washington Post
Awards - News
Aptive Named a 2023 Top Workplace by The Washington Post
Posted on 06.16.23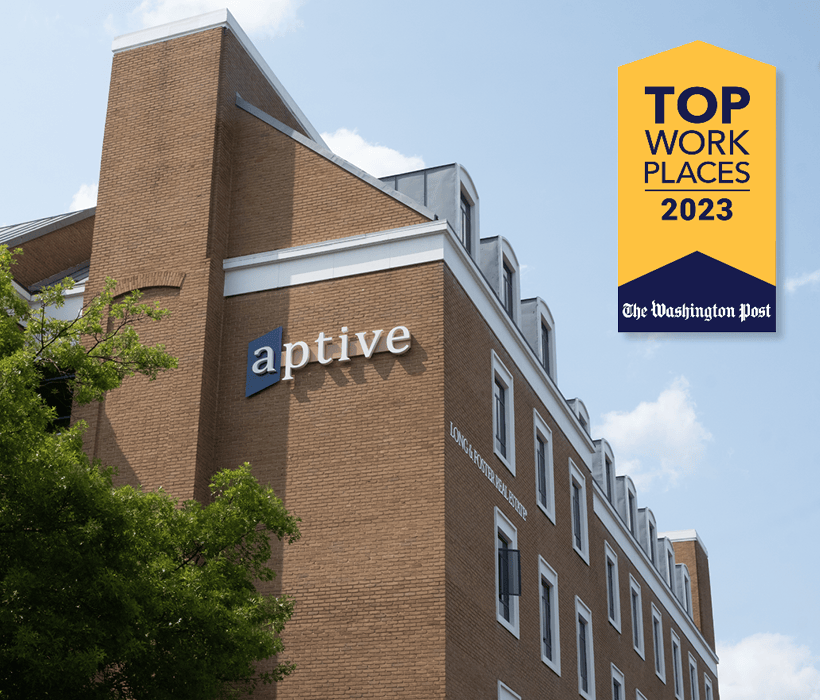 For the third consecutive year, Aptive is named a 2023 Top Workplace by The Washington Post. This recognition is based on employee feedback gathered through an anonymous third-party survey that measures workplace culture, including alignment, execution and connection. This year's honorees include government contractors, real estate firms, consulting groups and tech companies.
"For the past ten years, the Top Workplaces list has been a credible guide to companies, old and new, in the D.C. region where employees feel valued," said Washington Post Top Workplaces editor Bronwen Latimer. "As a new generation enters the workforce, the Post is more committed than ever to highlighting the changing landscape of work and how these companies are thriving in it."
"Our team at Aptive is humbled and proud to again be recognized as a Top Workplace," said Rachele Cooper, Aptive CEO. "This recognition is a testament to our intentionally supportive and positive workplace culture where everyone's contributions are valued. This award inspires us to continue to strive for excellence and remain committed to creating an environment where our employees can thrive."
For more about The Washington Post's Top Workplaces and to see the full list of this year's honorees, visit their website.
About Aptive
Aptive provides expertise in strategic engagement, health solutions and digital transformation. We support some of the most innovative and inspiring programs across the government, helping to improve performance, connect with people and navigate change. Led by CEO Rachele Cooper, a Navy Veteran and aerospace engineer, Aptive is headquartered in Alexandria, Virginia. Our hundreds of employees across the country are committed to shaping the future as we have for the last decade. Connect with us at www.aptiveresources.com.
About The Washington Post
The Washington Post is an award-winning news leader whose mission is to connect, inform, and enlighten local, national and global readers with trustworthy reporting, in-depth analysis and engaging opinions. It combines world-class journalism with the latest technology and tools so readers can interact with The Post anytime, anywhere.
About Energage
Making the world a better place to work together. TM
Energage is a purpose-driven company that helps organizations turn employee feedback into useful business intelligence and credible employer recognition through Top Workplaces. Built on 16 years of culture research and the results from 27 million employees surveyed across more than 70,000organizations, Energage delivers the most accurate competitive benchmark available. With access to a unique combination of patented analytic tools and expert guidance, Energage customers lead the competition with an engaged workforce and an opportunity to gain recognition for their people-first approach to culture. For more information or to nominate your organization, visit energage.com or topworkplaces.com.